People Histories

James G. Adams
(13 Jun 1855 - 27 Sep 1907
1
)
-As transcribed from the "

COMMEMORATIVE BIOGRAPHICAL RECORD OF THE UPPER LAKES REGION

"

by J. H. Beers & Co., Chicago, IL, 1905
pages 272 - 273



James G. Adams, the veteran educator and popular principal of the Hayward public schools, was born in Webster, Vernon Co., Wis., June 13, 1855. His parents, Simeon and Aby F. (Doan) Adams, were natives respectively of Perry and Morgan counties, Ohio, and came to Wisconsin in 1854, traveling the entire distance of over 700 miles in a covered wagon.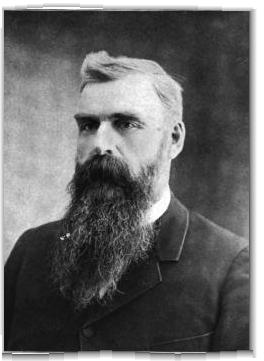 The Adams homestead claim was 160 acres of heavily wooded land in a sparsely settled region, the nearest
railway station being Sparta, thirty miles distant. Simeon Adams was well educated for the times and was a successful country school teacher, teaching many winter terms while living in Ohio, and one term after settling in Wisconsin. His Wisconsin school was conducted in the Salem Methodist church building, on his own land, and was the first school in the neighborhood. Among his pupils in Ohio was the late Jeremiah M. Rusk, afterward Governor of Wisconsin. While in Wisconsin he taught Thomas J. Snodgras, who became a popular and influential minister of the Methodist Church, filling some of the most important appointments in the Conferences with which he was connected. In the spring of 1873 the Adams family moved to Newton, Vernon county, and in 1876 Mr. Adams decided to retire from business and moved to Viroqua, Vernon county, and then to Winterset, Iowa. The following year he settled on a farm near Dexter, Dallas Co., Iowa, where he died in 1884; his wife passed away in 1879. Of his four sisters and six brothers, only two of the latter survive: Josiah, born in Ohio; and Mordecai, who lives near Bloomingdale, Wis. Simeon and Aby F. (Doan) Adams were the parents of the following children: James G. mentioned below; Lucy E., Mrs. E. F. Cook, of Van Meter, Iowa; Lydia B., Mrs. A. G. French, of Winterset, Iowa; and Julia, living
in Monroe, Iowa.

In his sixth year James G. Adams began attending school, his first teacher being Jeremiah Conway, and the school house a log cabin on his father's farm. Here during the short winter terms he received the elementary education in the three "Rs" which constituted primary education in those days. Later he attended the village schools in Bloomingdale for two summer terms. While living in Newton he was fortunate enough, in the fall of 1873, to be able to attend a private school for teachers, conducted by D. M. Fullmer, and the following winter he was a pupil in the upper department of the village schools, then under the direction of Hartwell Allen, ex-county superintendent of schools. This schooling was supplemented by part of a term in the Viroqua high school. Up to this time the winters had been devoted to study, and the summers to work on the farm and in the mill. In the fall of 1874, Mr. Adams attended a private school for teachers under the direction of Harwell Allen, and the same winter began his chosen life work as a teacher, in the town of Jefferson, Vernon county. The first venture was successful, and the next spring he further qualified himself for his profession by doing preparatory work in the Platteville State Normal School. Some unavoidable deficiencies in his high school training prevented his completing the whole course and graduating with his class in 1879, but while teaching the following year, he made up the two studies in which he was conditioned,a nd received his diploma. There being no class to graduate in 1880, he was obliged to wait for his formal graduation until 1881, but his diploma bears the date of the actual completion of the course, June 24, 1880, countersigned by the state Superintendent, July 11, 1881.

Mr. Adams did not wait for his diploma to do good work in his profession. From 1879 to 1881 he was principal of the graded schools of Argyle, Lafayette county; from 1881 to 1883 principal of Colby village schools; from 1883 to 1884, principal of Marshfield city schools. At the close of the latter term he went to Dexter, Iowa, to settle up his father's estate, and returning to Wisconsin in 1885, he became principal of the Bloomer High school, where he remained two years. From 1887 to 1889 he was principal of the high school in Merrill, after which he spent three years at Jefferson, and two years at Waterloo, Jefferson county, as high school principal. While a resident of Jefferson county he attended the summer school at the State University for two years. In September, 1894, he became principal of the Hayward high school, where he remained till the spring of 1903. While in Hayward Mr. Adams was untiring in his efforts for the betterment of the Sawyer county schools, and his work met with much success, the standard attained by these schools at present comparing favorably with that of the best in the State. In the spring of 1903 he decided to retire permanently from educational work, and became owner and publisher of the Spooner Register, Spooner, Wis., its circulation increasing under his management. In March, 1904, Mr. W. C. Crocker, superintendent of schools, of Washburn county, became postmaster at Spooner and resigned his former position. Upon petition signed by half the voters of Washburn county, State Superintendent C. P. Cary appointed Mr. Adams to the office to fill out the remainder of the term, which expired July 1, 1905.

A "History of Education in Sawyer County, Wisconsin," written by Mr. Adams, and issued in 1902, is a book of over 300 pages, written with great care and elaboration of detail, in a clear and well chosen literary style. Mr. Adam's a long educational career has been marked by steady adherence to the highest ethical standards and lofty ideals, with which he has endeavored to imbue the young minds under his care quite as much as with the more technical book knowledge of the schools. He is in hearty sympathy with the most approved, modern, educational methods, and has been successful in inspiring his pupils not only with intellectual ambitions, but with the desire to become useful citizens and noble men and women.

On Aug. 28, 1888, Mr. Adams was married to Della S. White, an accomplished young lady of Omro, Wis., and they have two interesting children: Nerva J., born Oct. 20, 1889; and Grace A., born June 22, 1891. Mr. Adams is past grand in Jefferson Lodge, No. 29, I. O. O. F., and was the first W. M. of Keystone Lodge, No. 263, F. & A. M., of Hayward, serving two years, from the organization of the lodge until December, 1896; he is also a member of Progress Camp, No. 4156, Modern Woodmen of America. A Methodist in religious belief, and a Republican in politics, Mr. Adams is firmly convinced that neither a religious sect nor political party should have a controlling influence in the management of our public schools.

---
1 - Editorial Note - James G. Adams'
death date was derived from the Washburn Co. Register of Deeds Death Index. The death record is on file at the Register of Deeds Office in Shell Lake, in Volume 4, page 170. His burial location is unknown.
---
DISCLAIMER: No claim is made to the copyrights of the individual submitters. Data within this website may be used for personal use only by individuals researching their ancestry. Commercial use of this information for profit is strictly prohibited without prior permission of the owners. Other genealogical websites may link to this website; however, permission is not granted to duplicate any of the contents. Anyone contributing material for posting does so in recognition of its free, non-commercial distribution, as well as the responsibility to assure that no copyright is violated by the submission. This website and its coordinator are not responsible for donations of copyrighted material where explicit written permission has not been granted for use.