People Histories

Frank and Helena Hammill


Written and donated by
Jack Hammell
Great-great-nephew of Frank Hammill
The eighth and last child of Irish immigrants Thomas and Catherine Hammill, Frank, was born on 23 December 1857 at Parma, Michigan.
He is listed in both the 1860 and 1870 censuses as living at home with his mother, Catherine, in Parma and attending school.
At the age of 18, in 1875, he became a locomotive fireman for the Michigan Central Railroad.

In 1878, he relocated to Baraboo, Wisconsin.

In 1883, he moved to Spooner, Wisconsin, a small town in Washburn Country in the northwest part of the state, and became an engineer for the Chicago, St. Paul, Minneapolis and Omaha Railroad.
Frank moved frequently during his years with the railroad.
"
Mr. Hammill's residence, in Spooner, dates back twenty years, to January, 1883, and he has a distinction of being the second railroad man to take up residence in the village and has been in the employ of the railroad company with headquarters here continuously ever since in the capacity of locomotive engineer.

He is now pulling a passenger train round trip from Spooner to Minneapolis which is one of the most responsible runs on this division."
On
13 September 1886
, he married
Helena
"Lain" Kappernick who was born
4 March 1864
in
New London
,
Waupaca County, Wisconsin
.
They were married in
Cumberland
,
Barron County, Wisconsin
, and became the parents of two children.
Alpha Catherine was born
20 April 1887
in Spooner but died in Spooner at the age of two years on
1 July 1889
from scarlet fever.
Nat Goodwin was born
18 April 1897
, and died on
28 March 1902
in Cable,
Bayfield County, Wisconsin
, at the age of five.
The Hammill family archives contain a poignant letter written by Lain just three weeks after the death of Nat Hammill, describing the little boy and his courage in his final months of ill health, his death and his parents' grief at the deaths of their two children.
This letter is reproduced in the appendices to this history.
In 1891, Frank and Lain were living in St. Paul, Minnesota.

This is proven by a letter written by Frank Hammill to the attorneys who handled the probate of his father's estate in Jackson County, Michigan.

Frank's letter was sent from St. Paul.
In 1895, they were apparently farming in Bayfield County, Wisconsin.

A photograph dated 1888, and included in a centennial publication of the town of Cable, shows Frank Hammill as engineer of a train arriving in Cable.

Frank Hammill moved to Cable "around 1898", and he, his wife and their son are listed as residents in the 1900 United States census of Cable.
"Mr. Hammell has invested a good deal of his earnings in land in Bayfield County and has established a fine fruit farm there near the village of Cable and has demonstrated the adaptability of northern Wisconsin to the growing of small fruits.

On this farm he has quite an acreage in different kinds of berries and has handled them so successfully that he has harvested large profits from them.

He also sends large quantities of different kinds of berry plants and is authority upon all matters of berry culture."

In Lain Hammill's letter concerning the death of her son, Nat, she refers to "the farm".

This is clearly the fruit farm near Cable.
Plat maps for 1906 show farm acreage of more than 120 acres owned by Frank Hammill north of Cable.

This acreage is in Section 6, Range 7 West, Township 43 North.

The property fronted on old Highway 63 and ran west to Cable Lake, just south of Rosa Lake.

Today old Highway 63 is Blue Moon Road, and the most recent plat maps (May 2001) show that the property consists of three 40-acre holdings, each owned by a different owner.

The easternmost holding fronting on Blue Moon Road is owned by Carl and Elva Rasmussen.

Carl Rasmussen owns the center holding, immediately west of the holding fronting on Blue Moon Road, alone.

And the westernmost holding is owned by Lucille and Louis DeBriyn, Jr., and is bisected by East Cable Lake Road.

The westernmost holding appears to front on Cable Lake, but official records have not been obtained to confirm that Frank Hammill's property fronted on Cable Lake.
To the north of Cable is a body of water named Hammill Lake; this lake may have received its name due to the proximity of other land holdings owned by Frank Hammill, but to date no information has been found to confirm this possibility.


On 9 February 1895, Frank wrote to the Commissioners of the Public Lands of the State of Wisconsin, asking how he could purchase an island on Cable Lake in Bayfield County.

In reply, the Chief Clerk of the State Land Office suggested that Frank contact the federal government in Washington, DC, and "get them to order the land surveyed - then buy it of the Government."

This advice apparently was good because Frank became the owner of the island.

It was referred to as Hammill Island among the locals.

This island is located on the southern half of Cable Lake near the west bank, while Frank Hammill's mainland farm property was on the northern end of the lake on the east bank.
By 1902, Frank and Lain had returned to Spooner permanently, perhaps unable to remain on the Cable farm with its memories of little Nat and his death.

They became deeply involved in the life of the small town.

According to another resident, James Murphey, who was interviewed some years later,

"When they built the first electric light plant, the city couldn't be assessed for more than five percent of its valuation.

The five percent amounted to $11,000 and the amount of the light plant came up to $16,000, and somebody had to make up the difference until they could collect some revenue.

The men who helped make up that difference were Frank Hammill, Joe Sullivan, George Harmon, Bill Busch, and me.

That was the five.

The equipment for the plant was purchased from a guy by the name of Crowely in Duluth (MN)."
Frank
retired from the railroad in 1903 after twenty years due to ill health, and built a home.

"The stately home on the corner of Vine and Summit streets was built for railroad engineer Frank Hammill and family about 1903, the same year that Hammill was elected village president.

Construction was by two local building firms who also built many other early homes around Spooner, the Johnson Brothers and Henry Sutter.

The Hammill house is a four-square design, maintaining 9 ½-foot ceilings.

It has oak woodwork, floors and pocket doors, and Quezal Art Glass light fixtures by Martin Bach of Brooklyn, New York.

The house has four rooms downstairs, the foyer, living room, dining room and kitchen, and four rooms upstairs, three bedrooms and the bathroom.

The foyer is highlighted with leaded beveled windows and an oak staircase embellished with carved oak leaves on the newel posts.

The dining room has oak beams and a bay window and features a built-in china cabinet with leaded glass doors.
"Frank Hammill was reportedly quite exacting in what would be used in the construction of his Spooner home.

It is said that when he discovered imperfections in the first shipment of oak woodwork for the house, he had it quickly returned and replaced.

Having friends and business interests in Bayfield County, he had Washburn sandstone shipped here by train and cut on site to be used for the house's foundation."
Frank Hammill purchased The Spooner Advocate and The Spooner Register newspapers in 1904, consolidated the papers, and remained the owner and publisher of The Spooner Advocate until his death.

H
e declared the paper (and himself) to be politically Republican.
He was elected President of the
Village of Spooner
in 1903 and remained president, except for one term, until 1909.
In 1909, Frank stood for election to the Wisconsin State Assembly and was elected by 4,033 votes to his opponent's 1,024 votes.

He served one term in the Assembly.
In 1910, the village became a city, and Frank was elected mayor and remained in that office until 1918.
Frank died on
18 February 1922
at his home; a wake was held in the foyer of the home and, on
20 February 1922
, Frank was buried in Spooner cemetery
.
The newspaper published a long eulogy to Frank, and noted that his funeral procession included dignitaries from around the State of
Wisconsin
and most of the local citizens.
The following year, he was posthumously remembered as "The Father of Spooner".
In 1923, a new elementary school was built in Spooner and named "
Hammill
School
"; this building survived until 1987.
Frank Hammill's widow, Lain Hammill, remained owner of "The Spooner Advocate" until 1924, when she sold the newspaper.
She was a member of the
English
Lutheran
Church
in Spooner, and remained active in community affairs for the remaining 18 years of her life.
She died
24 February 1942
, at the age of 78 and was buried with her husband in the Spooner cemetery.
At her death, the Hyacinth Chapter No. 128, Order of the Eastern Star, in Spooner draped its chapter charter in mourning for thirty days to honor her as a member of the Order and a benefactor of the city of Spooner.
"Lain lived in the house [built by her husband, Frank] until she died in February 1942.

Following Mrs. Hammill's death, the house was purchased by railroad engineer Sam Brown.

But Brown never lived there.

While he owned it, he briefly had the house up for rent and in a classified newspaper ad described it as '6 room modern home, newly decorated.'

Rather than renting it, though, Brown soon decided it would be the ideal home for his fellow engineer, Charles Arthur Salmonson, and family, so he sold it instead to the Salmonsons.
"They moved into the house in October 1942.

More than 30 years later, Salmonson's widow, Jenny, sold the house to another Spooner railroader, James Mommsen, who moved in with his family in 1974.

The Mommsens lived there until 1990 when they sold it to the present owner, Joyce Schancer.

Schancer is an area antiques dealer who grew up in the neighborhood.

Having admired the house for a long time, she purchased it in 1990.

Since that time she has [restored] it to its original style".
The home still stands at
219 Vine Street
.
---
Photos


Frank and Helena Hammill, probably at the time

of their marriage in 1886

Frank Hammill, probably about 1909 when he

served as a

Wisconsin

state assemblyman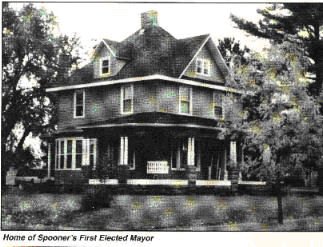 Frank and Layne Hammill's home at 219 Vine Street, Spooner, Wisconsin, circa 1998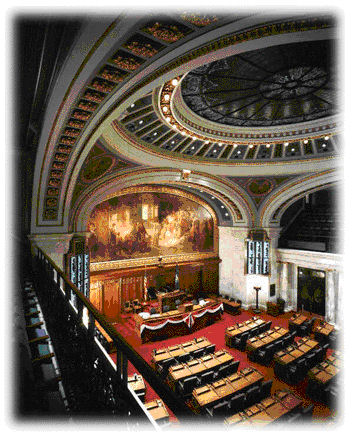 This photograph shows the Wisconsin State Assembly chambers in 1999. The State of Wisconsin completely renovated these chambers in 1996, and restored them to their appearance in 1909 - when Frank Hammill served here.
---
Letter from Helena (Lain) Hammill to her niece, Edith K. Hammill,
on the death of
Helena
's five-year-old son, Nat, in 1902
[Note:

Helena's parents were German and, in the 19th century, many Americans of German descent continued
to use German in the home, church and school as their primary language.

Helena's letter reflects her German
heritage in the capitalization of nouns in mid-sentence, her phrases in place of complete sentences, and so on.
These characteristics of the letter also reflect a mother's grief over the loss of a young child, and add to the
poignancy of this letter. Frank was
Helena
's husband and the father of little Nat.]
Cable Wis. April 20th 1902
My dear Edith,
Your letter reached us. And we thank you for your sympathy. Oh Edith this is awful. The loss of the little boy. We were so proud of him. He was a beautiful child, such lovely teeth. So bright in everything. It was surprising to hear him ask me questions & he remembered them. He did so well in Kindergarten, he came there after other children. He was promoted to the higher table ahead of them. Very active & quick in his movements.

Knowing what a dreary life he led out here on the farm alone & we were boarding.

I just lived for him all winter if ever he asked to go any where we went.

Before the holidays, we just lived around the large store where Santa Claus was & all the toys.

He enjoyed himself so much.

But he was ready to go to the farm again.

Frank would say Nat you stay here with Papa & let Mamma go alone to the farm.

No he preferred being with his mamma on the farm.
In January he had the measles very hard.

Doctor said he never saw a child have measles harder.

When he got better One day he said Mamma will you pack up all my toys & put them in a box.

I said Why you are getting better & will play with them again.

He said Not till I get to the farm.

I said of course you will right away.

This made me feel bad But he was getting better.
Last October [1901] when we were getting ready to leave here, the last morning he awakened early and said to me, today we leave the farm.

(Yes)

He said Goodby Goodby it is God's way.

His will (He) leaving the farm for good.

This proved true.

We laughed when I told of it at the breakfast table.

Of course he repeated Mr. McKinley's last words.

It seems so strange that he would pass such remark.

He was born on Easter Sunday [1897], took sick Palm Sunday, died Good Friday [1902].
He was getting along with scarlet fever when membraneous croup came in & he died.

Thursday he said to me in German Mamma it is all.

It is all.

He then turned to Frank & in English repeated the same.

At he had the Dr. with a Specialist to insert a tube when his mouth was opened they see it was to late.

So they injected antitoxin.

When this was done he said Mamma kiss me goodby.

I did so.

Poor darling.

He seemed to know he was going.
Frank's health is not very good so we have to be real careful of him.

I made him go to bed & I helped the doctors.

At 3-30 AM Doctors left me and I stand there all alone with the little one until 7-45 A.M. when he breathed his last.

He suffered awful the last 4 hours.

How he thrashed & threw himself.

He called for Papa at 5.

But I knew Frank could not stand it so I staid alone.

He finally said Oh Mama I can't any more.

I cant cry!

I suppose he thought I did not know how he suffered.

At 6 he grabbed both of my hands & said laugh laugh.

Mamma why don't you laugh.

in ½ hour he said the same.

And Edith I believe he see some thing that made him say this.

He thought I too see it.

All I did for hours was to pray.
This is indeed the saddest part of our life. Of course little Alpha's death was awful & we felt it. We were younger then. And our hopes were so bright for this little boy. He spoke the German perfect. He never spoke any thing but German to me. He would be speaking to Frank in English & when he spoke to me turned it in German. At the table the boarders would laugh to here him speak the two languages, one then the other. Nat too would laugh but kept it up. It was surprising. Not many children do this. They take the advantage when they can possibly speak English they do. But he was so proud of the German. When I came in Kindergarten He always address me in German. He has made so many real sweet things there.
Now that our hopes are all broken we can only feel, there is only one thing to look forward to.

And that is our grave.

To get there soon would such a relief to be where our little one are.

We both feel the same.

My Father & Mother are here with us this summer.

Of course it would be hard for them if I were taken.

But my life is too dark ever to brighten again.

You say Grandma use to say the living trouble was harder than death.

It may be for some.

But it certainly isn't as hard as death when death comes & takes all you got.

We never looked for any thing real bad in Nat.

As he loved us so.

He used to tell us how good he would be to us when we were old.

He would give us every thing.

One day he said to me When I am big & earn money I am going to buy you a new dress.

He always made such cute remarks.

In his prayers at night it seemed so strange to mention things of his own accord.

If he had been naughty to me during the day, He would draw my head down to whisper in my ear.

I must tell God of being naughty to you & let me be better tomorrow.

He never went to sleep without asking the Lord to keep his Papa well & not let him get sick again.
I am so thankful that every night of his life I laid down with him to put him asleep & told him stories.

He used to cuddle.

He called it so rub my neck with his fingers.

This seemed to put him asleep.

If he awakened in the night He would say Mamma cuddle & I would lay over his bed until he went to sleep.

There are not many mothers who give their little ones so much attention.

I never went anywhere without him, gave up every thing in the line of amusements when he came & Frank was so very good to him to when ever he was he would not go out afternoons without taking him along.

We loved him dearly & he did us.

He never went to play when Frank was home He was Papa play with me & he always did.

We feel so happy that we did all this for the little darling, seeing how things turned out.

We can not recall a time where anything in the line of toys he always got it.

We feel we did our duty by him & why the Lord has seen fit to call on again we can not understand.
Write me again
With love full of sorrow
Your loving



Aunt Lain
[Note:

Helena (Lain) Hammill's husband, Frank, would live another 20 years and would become a newspaper publisher, mayor and state legislator before dying in 1922.

Lain inherited the newspaper but sold it in 1924; she lived until 1942 – forty years after the death of her beloved son, Nat.]
---
DISCLAIMER: No claim is made to the copyrights of the individual submitters. Data within this website may be used for personal use only by individuals researching their ancestry. Commercial use of this information for profit is strictly prohibited without prior permission of the owners. Other genealogical websites may link to this website; however, permission is not granted to duplicate any of the contents. Anyone contributing material for posting does so in recognition of its free, non-commercial distribution, as well as the responsibility to assure that no copyright is violated by the submission. This website and its coordinator are not responsible for donations of copyrighted material where explicit written permission has not been granted for use.