People Histories

Leander E. Thomas
(02 Jan 1847 - 07 Feb 1922
1
)
-As transcribed from the "

COMMEMORATIVE BIOGRAPHICAL RECORD OF THE UPPER LAKES REGION

"

by J. H. Beers & Co., Chicago, IL, 1905
pages 464 - 465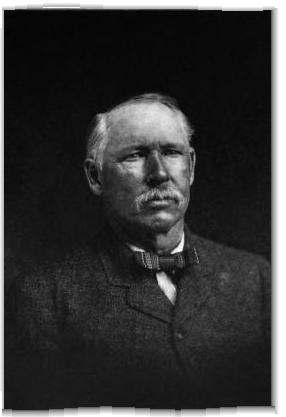 Leander E. Thomas, one of the oldest settlers in Shell Lake, Washburn county, was born near Kokomo, Ind., Jan. 2, 1847, son of Henley and Susan (Woody) Thomas.

The Thomas family came originally from Wales, and the great-grandfather, Elijah Thomas, although a Quaker, took part in the Revolutionary war. His son, Elijah, was born in North Carolina, and in early life taught school for some time in that State. Early in the nineteenth century the family moved to Indiana, where Elijah (2) also taught school, and in 1856 they located at Constantine, St. Joseph Co., Mich., where he died at the age of ninety-six. He, like his father, was a Quaker in religious faith, and he brought up a family of twelve sons and two daughters. Henley Thomas, son of Elijah (2), was a farmer, and about 1868, moved from Michigan to Marshall county, Iowa, where he died in 1892, at the age of seventy-seven. Mrs. Susan (Woody) Thomas died in Grant county, Ind., in 1849. Little is known of the history of her parents, who came from Richmond, Ind. One of her brothers, Lewis Woody, was a school teacher, and went to the State of Washington; another brother, Solomon, went overland to California in 1849, but returned and settled in Richmond, Ind. To Henley and Susan (Woody) Thomas were born four sons and four daughters as follows: Sarah, Mrs. J. Coates, who died at Bangor, Iowa; Ada, Mrs. Jones, who lives in Pease, Milleslac Co., Minn.; William, who served in the 19th Mich. V. I. during the Civil war, and died from the effects of injuries received in battle; Mary Jane, who is Mrs. Jones, of Milaca, Milleslac county; Becky, who is the widow of a Mr. Coates, of Long Beach, Cal.; Robert W., of Eagle Grove, Iowa, who served int he 11th Mich. V. I., during the Civil war; Leander E., who is mentioned below; and Ledru, who died in Marshalltown, Iowa. By a second marriage Henley Thomas had one son, Henley, of Marshalltown, Iowa.

In 1862 Leander E. Thomas left home and went to Taylors's Falls, Minn., where he engaged in lumbering on the St. Croix river for several years. On Sept. 18, 1864, he enlisted in Battery A, 1st Minnesota Heavy Artillery, being discharged in July, 1865, at Nashville, Tenn. Most of his service was at Chattanooga, under Gen. Thomas, who is supposed to have been descended from the same branch of the family. During Hood's campaign Mr. Thomas's regiment wee for about six weeks on half rations; much of this time he was employed in guarding trains and steamboats. After the war he resumed his work of logging on the St. Croix river, and in 1868 made his first visit to Washburn county, (then a part of Burnett county), making the four days' journey from St. Croix Falls on foot. He then entered the employ of Smith & Clendenning, whose camp was located about five miles above the present village of Spooner on the Yellow river. In the spring of 1872 he took up a homestead claim on Bashaw creek, in the eastern part of Burnett county and the next season bought timber and logged in the woods, continuing this work several years. Early in 1880 he bought eighty acres near the present village of Shell lake, where he lived for some years, there being no houses in the village at that time. Somewhat later he bought 120 acres of land on the shore of Shell Lake, where he improved a farm, a part of which he has since sold, and in the autumn of 1902 he moved into Shell Lake village. For a number of years he has been chiefly occupied in making estimates of timber lands. In 1882 Washburn county was separated from Burnett county, and Mr. Thomas was appointed the first county treasurer, and elected to that office for a second term. He also served two years as chairman of the town of Shell Lake, the water works being built during this period.

Mr. Thomas married in 1868 Nawadakamagoqua, of the Chippewa tribe, a native of Washburn county. To this union have been born seven daughters, as follows: Josephine, Mrs. H. M. Larson, of Barronnett, Wis.; Susie, Mrs. Jones, of Tenney, Minn.; Ellen, Mrs. John Prophet, of Shell Lake; Belle, Rebecca, Myrtle and Esther. Mr. Thomas has always supported the Republican party in politics. Fraternally he is a charter member of Shell Lake Lodge, A. F. & A. M., and also of Nathaniel Greene Post, G. A. R.

Mrs. John Prophet, third daughter of Mr. Thomas, attended the public schools at Shell Lake, and later was a student at the Carlisle Training School, at Carlisle, Pa., graduating in 1898. For a year and a half she was employed in teaching at the Kickapoo Indian School at Netawaka, Kans. She attended the National Education Association held at Los Angeles, Cal., in 1899, and the Indian Institute conducted in connection with the association; for two years she was employed as teacher of sewing in the Red Lake Boarding School, at Red Lake, Minn. Mr. Prophet, who was born in Indian Territory, of the Shawnee tribe, was educated at the Indian school at Santa Fe, New Mexico. He also taught in the Industrial Department of the Kickapoo Indian School. Mr. and Mrs. Prophet have two children, namely: Edna, born in Shell Lake, and Theodore, born in Indian Territory.

---

1 - Editorial Note - Mr. Thomas' death date was derived from the Washburn Co. Register of Deeds Death Index. The death record is on file at the Register of Deeds Office in Shell Lake, in Volume 7, page 465. There is a military tombstone for him, with no dates, located in the Shell Lake Memorial Cemetery.

---
DISCLAIMER: No claim is made to the copyrights of the individual submitters. Data within this website may be used for personal use only by individuals researching their ancestry. Commercial use of this information for profit is strictly prohibited without prior permission of the owners. Other genealogical websites may link to this website; however, permission is not granted to duplicate any of the contents. Anyone contributing material for posting does so in recognition of its free, non-commercial distribution, as well as the responsibility to assure that no copyright is violated by the submission. This website and its coordinator are not responsible for donations of copyrighted material where explicit written permission has not been granted for use.